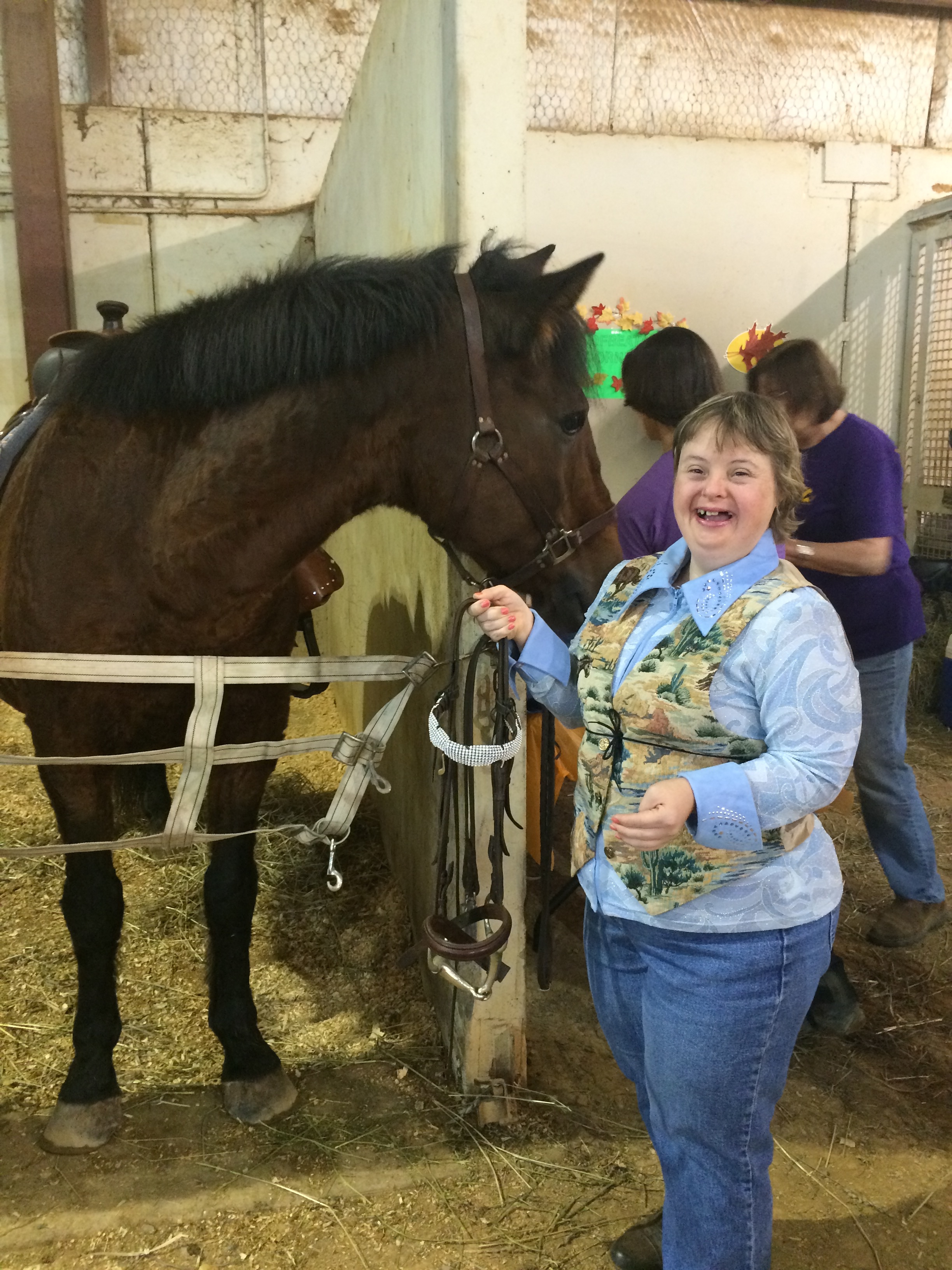 The first day Alanna Conner came to Hoofbeats, she marched right into the stall, started petting the horse, and announced, "I'm Alanna, and I'm going to ride you."
"She ain't shy," her mom, Nettie Conner, chuckled, shaking her head as she remembered this time.
"Nope!" Alanna piped – not one bit.
This attitude of sweet and bubbly confidence has defined Alanna's entire life. Forty years old and not quite five-feet-tall, she has beautiful brown eyes, a smile that fills her entire face, a brilliant sense of humor, and a contagious giggle that is absolutely priceless. She loves giving hugs and is always wearing something that sparkles.
Alanna has Down syndrome, and she and her family have never let this define her. "What people need to understand is that disabilities aren't disabilities if you look at them as challenges instead and just try," said Nettie. "When people told us she couldn't do something, we just said, 'Well, we haven't tried it yet. Let's try.' That goes for me, you, anybody. Don't say, 'I can't do it.' Just try."
Alanna has been riding horses at Hoofbeats for eleven years, competed in countless horse shows, and become quite a proficient rider. "I wish I could do it all the time," she said. A bright collection of blue and red ribbons decorates her house and when asked what her favorite thing about horse shows is, she gets a very serious face and answers matter-of-factly, "Getting first place." Her steed of choice is Blueberry, a rather fluffy, white spotted pony with a long career as a therapy horse.
"She just loves the horses," said Nettie. "The horses are nice. The people are nice. Of all the riders over there, no two are like. They're each special in their own way."
But riding is just one of Alanna's activities. "I like to keep busy," she said. Music is one of her other passions, she explained. Always at center stage, she performs in STAR (Special Theatric Artistic Review) and sings in her church choir. She adores country gospel singers Joey and Rory Feek and was deeply affected by Joey's recent death.
Alanna also works at Rockbridge Area Occupational Center, which provides project based employment and vocational training for adults with disabilities. Recently, she won Employee of the Month. When she explains this honor to people, her entire body seems to light up. Not a pageant queen in the world could regard her title crown with more emotion and heartfelt awe than that which Alanna does this award.
In her spare time, Alanna enjoys painting her nails, going fishing, listening to music and dancing at the YMCA's Coffee House program, and going bowling with a Special Olympics group in Clifton Forge.
"The day after Alanna was born, the pediatrician told me she wouldn't do this and that," said Nettie. "But she's done it. She's gone to school, ridden the school bus, played in the little league, done pageants… What's any kid in school done that she hasn't? She's done it."
Nettie credits Alanna's education to one of her teachers, Cathy Trout. Along with three other girls in her special education class, Alanna graduated from high school in June of 1998, and walked across the stage just like everybody else. "The teacher wouldn't have it any other way," she said. "Some people are surprised by how she can read. But she does. One of her favorite things to read is the Bible. She studies her Sunday School lesson every week."
Nettie said she wants there to be more general understanding and acceptance of individuals with disabilities. "There are people who do care. But there are a lot of who don't understand, who don't want to understand," she said.
When Nettie worked at Walmart, she had several co-workers with disabilities and noticed the way customers treated them differently. "People don't talk to people that they think can't talk back, or look funny, who have disabilities."
And just talking can make a big difference. Nettie said, "Anybody you meet, if you can find something to talk about that they like. They remember. Everybody wants somebody to talk to that cares."