Hoofbeats takes great pride and responsibility in educating our community about chronic illness and disability. Our founder, Trish Cunningham (formerly Rogers), engrained this mission in our culture when the center opened in the early 90's.
Having lost her brother to cancer when she was a child, Cunningham wanted to reach out to children experiencing terminal illness and other life-altering conditions. She outlined this goal in the program's original mission description:
We provide therapeutic and recreational horseback riding […] We will also offer regional day camps and overnight camps for cancer patients and their families, respite weekends for retarded citizens, outings for the physically handicapped […] The camps will include horse-related activities, as well as art classes, music, science, barn dances, games, sports, and campfires. (Hoofbeats Flyer, 1994).
The cancer camps and community outreach were a huge success and impacted hundreds of families around Virginia. Over the years, Hoofbeats has continued this educational outreach, hosting cancer and autism camps  and doing disability presentations at local schools. We take seriously the responsibility to instill values, confidence, and leadership skills in our young riders. Many confident and successful men and women have emerged from the Barn Rat program, one of the most unique and cherished opportunities at the center. These "Barn Rats," children between the ages of 5 and 14, make a serious commitment to the high expectations and responsibilities that come with being a full-fledged team member at a therapy center. They come to the center every week to care for the horses, assist with lessons, ride, build relationships with peers and mentors, and most importantly, to learn.
Hoofbeats also partners with Girl Scouts and Boy Scouts and trains mounted drill teams and Pony Club competitors. These programs help children set and reach goals and engage in positive competition. The opportunity to be on a team and win a prize gives students pride and value in their own accomplishments.
College students and adults are also learners at Hoofbeats. An internship program provides training for future therapeutic riding instructors, barn managers, and counselors. Located in Rockbridge County, the center is fortunate to be on the front steps of three colleges: Virginia Military Institute, Washington and Lee University, and Southern Virginia University. Volunteers from these colleges come for service days, intern throughout the year, and carry out academic projects at the center.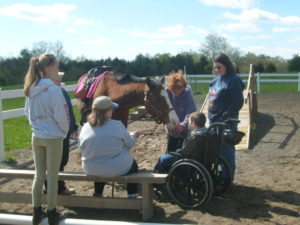 To college students, Hoofbeats Director Carol Branscome says, "Whatever you are studying, you can learn about it here. If you're studying psychology, come do a study here. Sociology. Counseling. Medical stuff. Journalism. This is a laboratory. Whatever your gifts are, use them here."