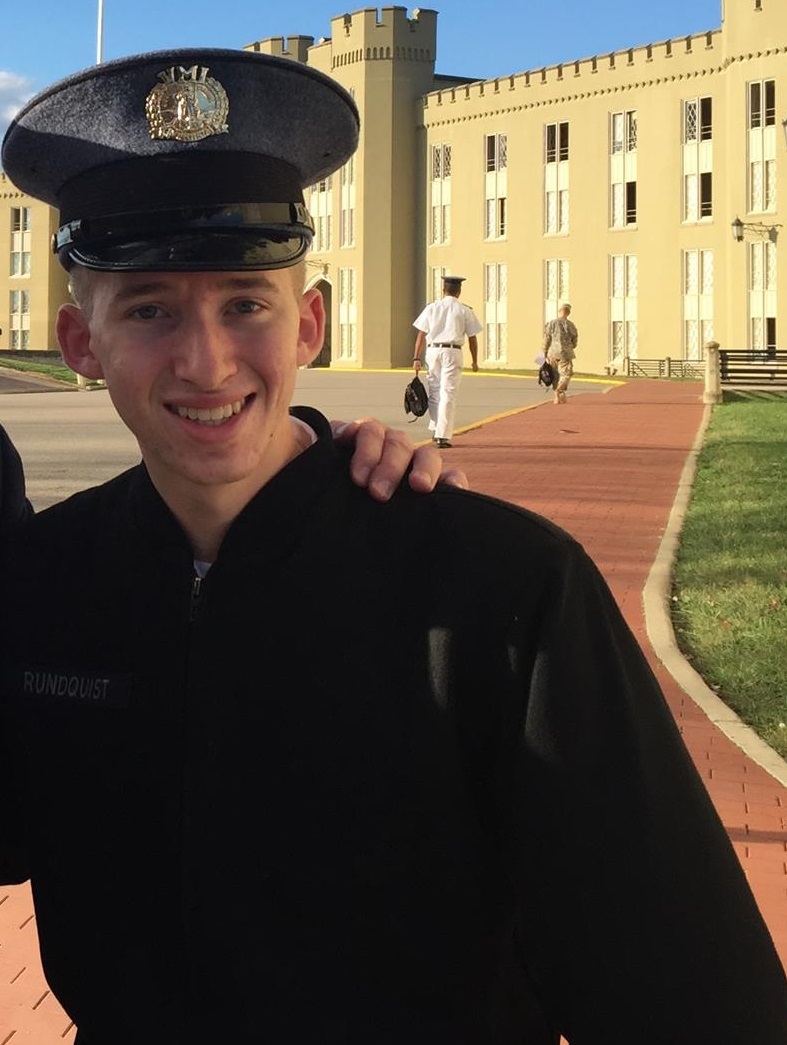 When a rider fell from his horse during a trail ride, volunteers from the Virginia Military Institute applied their military training to get him back on, saving the day in more ways than one.
"This is a perfect example of how you never know who is going to walk through the front door and why," said Hoofbeats Director Carol Branscome.
The cadets were there as part of VMI's Air Force ROTC training weekend, which sent 200 cadets to service sites across Rockbridge County. When they arrived at Hoofbeats, Branscome gave them various tasks and then invited them to accompany a small group of riders and staff on a trail ride through the woods around the horse center. As they ambled along the trail, Joseph, one of the adult riders, reached out to touch a tree. He leaned too far from the saddle, passed the tipping point, and suddenly tumbled to the ground, his first spill from a horse. He was unhurt, but now the staff and volunteers were presented with a dilemma. He was too far from the center to walk back and too heavy to re-mount without the ramp at the barn. The cadets saw this as a small challenge and immediately stepped in with a solution, assuring Branscome they could get Joseph back on the horse.
Cadet Andrew Rundquist said they had done similar exercises at VMI, lifting full-grown people over vertical walls. "We just got down on our knees and showed him where to step on our thighs so that he could safely and comfortably get back on without feeling unstable," he explained. Sensing a confident energy, the horse stood quietly while the cadets helped Joseph remount quickly and smoothly. He was able to finish the trail ride he started.
"It boosted Joseph so much I can't express it," Branscome said. "If you're going to ride horses, by the law of averages you're going to fall off. A fall can get in a rider's psyche and make them timid and nervous from then on. But that made Joseph absolutely high and he thought, 'I can do anything.' He was really proud of himself. I don't think the VMI cadets could fully realize how much of a difference they made."
Rundquist, an 18-year-old international studies major from Yorktown, said he was thankful for the opportunity to volunteer that day. "Serving your country is great, but your community, within the country, is also important," he said. "This was one of our first opportunities to get out of Post and do something. It really didn't matter what the task they had for us to do, we were going to do it and do it to the best of our ability, representing the Air Force in the best light possible and representing VMI in the best light possible," he said.
Branscome had asked them to clean equipment, move piles of sawdust for the horse stalls, and help with the trail ride. "They did it with gusto and enthusiasm and treated those jobs really respectfully. I thought that it epitomized what we want those VMI cadets to be."
For the freshmen cadets, lifting a rider back on the horse allowed them to see their Air Force training in action. Rundquist said, "It was quite encouraging to us, applying what we were doing here."
---
Hoofbeats is thankful for our longstanding partnership with VMI. Volunteering every year, cadets make a huge difference, especially for the kids.