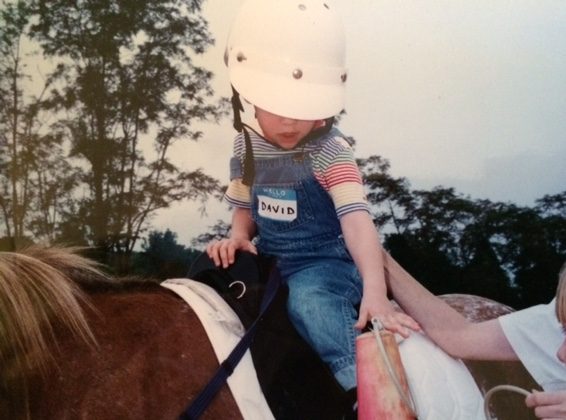 When David rode, a smile lit up his entire face. He loved crouching forward on his horse's neck, fingers clamped firmly inside a warm mane, poised in a "gallop" position. He focused hard on leaning down or side-to-side to throw colorful rings onto poles; but his favorite part of riding was bringing a carrot for each of his special four-legged friends at the barn.
David loved everything about being a Hoofbeats rider. One of the originals, he began riding when he was four years old as soon as the center opened in 1994. His joy, his gentleness, his devoted family, and the smile that always spread across his face when he was with the horses truly embodied the vision of kindness at Hoofbeats. David's sweet spirit was caught in a body battling an aggressive neurodegenerative condition, and in January 2016, at 25 years old, he passed away gently in his sleep at the hospital. In lieu of flowers, his loving parents, Richard and Nancy, suggested contributions in David's memory be made to Hoofbeats, which created a riding scholarship in David's name.
"Hoofbeats was very important for David. It was one of the things he enjoyed the most and benefited the most from," explained Richard. "It was part of who he was."
"It was an absolute joy to have him there, every minute he was there," said Carol Branscome, Hoofbeats director. David will always be a member of the family, and the new scholarship is a very emotional matter, she explained. "This is something special. It has to be something that embodies David's spirit," she said. She and Nancy eventually decided that it should go to somebody "who would experience joy through it" – just as David did.
David truly did find joy through riding. He rode as long as he was physically able, for fourteen years, on every horse, from the smallest to the tallest. Starting out as a tiny four-year-old, he perched atop Granny, an equally tiny grayish-brown Shetland pony with a wildly fluffy mane. Carol remembered that "the first time he was there, he just smiled the whole time. He just giggled and grinned and looked at his mother with twinkles in his eyes."
The exercises he did on horseback – like placing rings on poles and throwing balls into baskets – helped David stretch and strengthen his core. "It was a combination of physical therapy and occupational therapy," said his father.
"He really enjoyed the activity of riding, but he also really enjoyed the relationship with the horses," Richard explained. David loved bringing carrots to feed the horses. It was a highlight of the lesson – for the horses too.
At home, Richard and Nancy would follow up with David after the lessons. Nancy made beautifully crafted picture books so that David could identify familiar people and horses in the pages. David loved being read books of all kinds including ones about horses. He also wore Hoofbeats T-shirts and other shirts that had horses on them.
The last horse that David rode was Ben, a tall and stocky Suffolk punch gelding. He beamed down at his mother and volunteer side walkers from his newfound height. By that time, David had competed in many horse shows and had collected a large number of ribbons. He then went on to be named Rider of the Year.
Contributions given to Hoofbeats in David's memory were also used to purchase an advanced therapy saddle for disabled riders like David. This saddle was specially crafted in England with thick memory foam in the front and the back for support. David's name is engraved on it.